Mining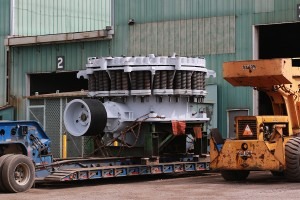 Since our beginning, IWM has proudly worked with the regions Iron Mining industries to provide them with the best possible quality products, mining equipment repair, and services at very competitive prices. Here is just a handful of items we have supplied the Iron Mining industry:
Seven-foot Symons Cone Crusher repair on every part of the assembly
Seven-foot Symons Cone Crusher conversion to hydraulic clamping and clearing
Cone Crusher mainframe liners made with Tri-Braze ™ plate
Various wear liners made with Tri-Braze ™ plate and Super-C ™ plate
Primary crusher liner lifting jigs
Classifier tube shafts and many various other shafts, straight and eccentric
Stainless steel wear pans for fines material and separator skins
Trunnion repair or fabrication for various mills
Ball and rod mill repairs
Have questions on our capabilities, want to discuss a project, don't hesitate – Chat With An Expert Now (218) 628-1011
Why Should Your Mining Company Choose IWM?
Industrial Weldors and Machinists have the largest capabilities in the area. We have vertical boring mills from 5' to 18' capacity, some of the largest engine lathes and several large horizontal boring machines for a variety of mining equipment repair projects. We also have digital readouts for quality control and CNC capabilities for any high quantity requirements. Our fabrication shop has a 750-ton press brake, 7/8" x 14' plate roll, ¾" x 10'shear, plasma cutting, welding positioners, and 25 ton overhead cranes to repair even the largest mining equipment. One of our mining equipment repair specialties is repairing Symons cone crushers, such as the Symons Nordberg 7' Heavy Duty. We have our shop set-up to repair several crushers at the same time. We are able to fully disassemble the crusher to the bare frame. We clean and inspect all parts and provide a detailed work scope and estimate as to what needs to be repaired or replaced. We work with local vendors to stress relieve and test the parts for any cracks or imperfections in the parent metal. After getting approval from our customers we continue with the repair process and repair all parts at our Duluth, MN site. After repairing the required parts we are able to give it a fresh coat of paint, assemble the crusher to original tolerances, and deliver the assembled crusher to its destination.
IWM has an experienced group of employees. Many of our welders and machinists started with IWM right out of tech school and have been with us throughout their careers. Having very little employee turnover helps maintain quality in our welding and machining processes. We are a family owned business with the third and fourth generations currently continuing the Abernethy tradition. James Abernethy founded IWM in 1952, and we continue with his dedication and focus on quality.
IWM's design staff uses the latest in CAD design software with Solidworks. Our estimating department uses Jobboss software to reproduce mine equipment repair jobs identically every time.
We are proud to have an excellent working relationship with large companies such as Cliffs Natural Resources, US Steel, Canadian National, and Burlington Northern, as well as working with small sand and gravel companies. We strive to get them all back up in running as soon as possible in times of a breakdown.
Our location in Duluth, MN is critical to our fast turnaround times when a breakdown occurs on the Iron Range, northern Wisconsin, or the twin cities. We have our own fleet of delivery vehicles to help cut down on delivery times for repaired mining equipment as well as costs. We also work with local trucking companies like Jeff Foster Trucking to complement our pick-up and delivery process.