Metal Fabrication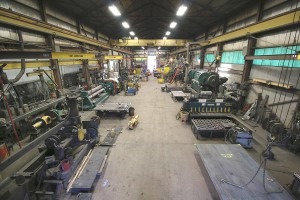 IWM has industrial metal fabrication services & capabilities that are second to none in the area. We have some of the largest capacity forming machines north of the Twin Cities, housed in our 14,400 square foot welding/fabricating shop. The welding & metal fabrication shop also contains two bridge cranes: 10 Ton and 25 Ton, and 2 Ton jib hoists at each workstation.
Metal Fabrication Services:
Welding: (see Welding tab for a list of machines)
Shear: Cincinnati with a rated capacity 3/4″ Thick x 120″
Press Brake: 750 Ton Cincinnati Mechanical Press Brake with 16′ bed and ram
Cutting: Hem (Band) Saw with a 45-degree tilt, Hand Plasma, Flame, Air-Arc
Plate Rolls: up to Bertsch Pyramid Type with a rated capacity of 7/8″ Thick x 168″ Wide
High-Def Plasma Burn Table: Hornet Cutting Systems "Mega Hornet 1000" on a 9′ x 24′ down-draft table, with a Hypertherm HPR400 XD Plasma power source and oxy torch
Presses: 200 Ton Horizontal Hydraulic Bulldozer Style, 600 Ton Horizontal Hydraulic Wheel Press, and various smaller presses
We are here to make sure your project is a success, utilize our expertise.
Chat With A Metal Fabrication Expert – Call (218) 628-1011
Offering 64 years of experience working with fabricated metals in Duluth, MN we serve the entire Midwest and have the ability to fabricate the largest parts and equipment in the region. Need metal fabrication services in MN or have a project in mind?